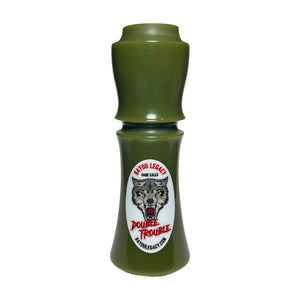 The Double Trouble combo predator call brings together two of the most effective predator sounds into a single call... the cottontail distress and mouse squeaker.  Great for calling in all predators including coyote, fox, and bobcat.
Features:
Combination cottontail distress and mouse squeaker sounds

Simple exhale/inhale operation
Long-range volume

Lanyard included
Instructions:
Blow into the call for high-volume cottontail distress vocalizations and inhale for soft mouse squeaker cries.  Imitate the sound of a baby's cry (wah, wah, wah) with each note lasting about two seconds for a total of five or six notes.
End of the line....
Have only got to take to the field one misty morning, but it performed well. Brought in a double.....
Great Call
Haven't been able to take it to the field yet but the call sounds great. It's very easy to use. I love the built in squeaker. I will take to the field and get video up.
Fish and Fur outfitters
Just got this call the call has a great tone to it also has a built in squeaker. Also real easy to blow.
works great
Called in a little fox first time out. These calls work really well. Great bunch of people to do business with. Get you one, lot's of fun..