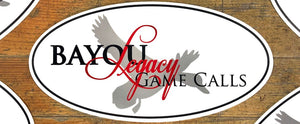 Welcome to Bayou Legacy Game Calls
Here you'll find game calls designed to improve your success in the field.  Whether you're after duck, deer, or coon... we've got a call to suit you.
Be sure to subscribe to our mailing list for updates on new products as well as subscriber exclusive deals.
NEW CALL!
The Double Trouble combo predator call brings together two of the most effective predator sounds into a single call... the cottontail distress and mouse squeaker.  Great for calling in all predators including coyote, fox, and bobcat.
Get one!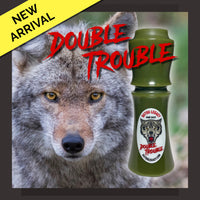 Buy One Get One!
Move quick if you'd like one of our glowing logo Tree Shaker t-shirts. They're half-off when you buy a Tree Shaker coon squaller.
Discount will be applied automatically.
Show me the shirt!