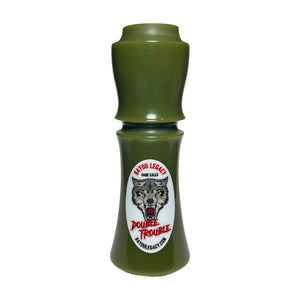 The Double Trouble combo predator call brings together two of the most effective predator sounds into a single call... the cottontail distress and mouse squeaker.  Great for calling in all predators including coyote, fox, and bobcat.
Features:
Combination cottontail distress and mouse squeaker sounds

Simple exhale/inhale operation
Long-range volume

Lanyard included
Instructions:
Blow into the call for high-volume cottontail distress vocalizations and inhale for soft mouse squeaker cries.  Imitate the sound of a baby's cry (wah, wah, wah) with each note lasting about two seconds for a total of five or six notes.
Coyote
The first night brought coyotes close to my house!!!
Great call
This is a great sounding call with the added bonus of flipping it over and having a squeaker to help get them closer
Great calls!
I was looking to purchase a birthday gift for my brother so I bought tree shaker, double trouble and squirell hunter. I decided he didn't need all the fun so I bought a set for myself too. Ive been teasing squirels every day since. Can't wait to try them out more!
End of the line....
Have only got to take to the field one misty morning, but it performed well. Brought in a double.....
Great Call
Haven't been able to take it to the field yet but the call sounds great. It's very easy to use. I love the built in squeaker. I will take to the field and get video up.